Shortage in Skilled Workers | Continuing Education Opportunities
News
By: Julio Alvarez
Dec. 15 18
0 Comments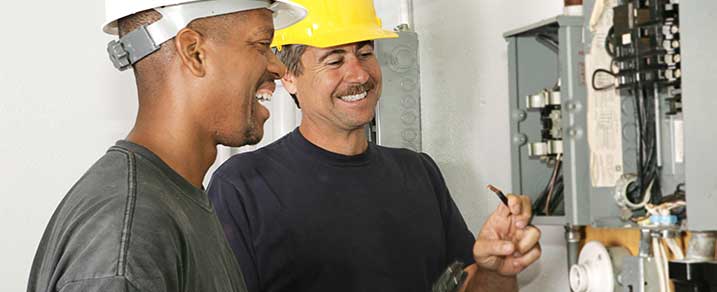 Shortage in Skilled Workers Means Great Opportunities for Students Learning a Trade
Across the country skilled laborers have their pick of jobs. They're earning big salaries, often with benefits, and they are in high demand, enjoying great job security. This is because there is currently a shortage in workers who are skilled in trades: plumbers, electricians, carpenters, masons, HVAC repairers, tile setters, pipe layers, and more.
Building is booming, especially in certain areas like South Florida, as is the need for repair and reconstruction after natural disasters like hurricanes, but there are just not enough workers to do it all. For many reasons there has been a downturn in young people getting into skilled trades over the last several years, but that could be changing. With big demand, good salaries, and generous benefits, now is a great time for anyone considering a career in skilled trades to get started.
The Skilled Labor Gap
In areas all over the country there are major gaps between the number of skilled trade workers needed to do work and those that are available. The shortage is widespread nearly everywhere, and for everyone from high-end developers to local contractors to homeowners needing repairs and renovations, finding someone who can do the job has become challenging. There just aren't enough people who are capable of doing skilled construction work.
Some of the reasons that there is such a gap include the repercussions of the Great Recession of 2008. When that big downturn in the economy occurred it had a big impact on labor. Many people were left unemployed, and few people made a move to get into skilled labor and construction work. There was no demand at the time, and that led to a dip in training new workers. Between 2007 and 2009 nearly 1.5 million jobs were lost in the construction industry. It's not hard to see why young people were hesitant to train in these fields.
So for a long time young people were uninterested in blue collar work, and as older workers aged out of the industry, a big gap was left. According to a survey of U.S. talent, vacancies in skilled trades are the hardest to fill right now. In fact, skilled work has experienced the largest number of open positions every year since 2010 as compared to other industries and types of jobs. Many young people are still unsure about blue-collar, skilled trade careers, but the opportunities and salaries available are expected to change attitudes and draw more into the field.
Trade Workers in Demand
According to the U.S. Bureau of Labor Statistics (BLS), jobs available in construction-related fields, including electrical work, carpentry, elevator installation, painting, masonry, and others, are growing faster than average job growth. That growth is expected to be eleven percent between 2016 and 2026 and to include nearly 750,000 new jobs across the country, much more than in most other industries.
Not only do construction and building companies need more trained and skilled workers, they also need to up their games in terms of modern materials and techniques. They need workers that are constantly learning and taking continuing education courses in their fields. The projects that cities and developers are working on in many areas require greater complexity and ever-evolving skill sets. Trade workers now need a base education and training as well as ongoing courses.
Young people who decide now to train in a skilled trade will be in huge demand once they are ready to work. Having a diploma, certificate, or degree in electrical technology, plumbing, HVAC, and other construction-related fields gives young workers a big leg up in finding job security and earning a good living, in nearly any region of the country.
The Building Boom in Miami and South Florida
Although the skilled trade gap and demand for trained workers exists all over the U.S., South Florida is one of the most glaring examples of the shortage. The most recent job statistics from the BLS indicate that Florida ranks third among all states for the number of people employed in construction-related jobs. In May of 2017 there were 376,890 people employed in the industry in Florida, representing 45 out of every 1,000 jobs. Florida is topped only by California and Texas for skilled construction workers.
And it still isn't enough, especially in South Florida. According to the Florida East Coast Chapter of the Association of Builders and Contractors, building companies, construction companies, and contractors in the Miami area are struggling to find enough workers for their projects. In particular, they can't find enough skilled trade workers, those who have specific training and can do more than just basic labor. Local members of the Association of Builders and Contractors have over 500 open positions listed that they can't fill.
Skilled workers in Miami and all of South Florida can look forward to more than just job stability and having their pick of positions; trade workers in construction in the area earn on average between $55,00 and $70,000 per year. They also enjoy benefits and a pension. The average income for these workers is higher than the overall average in South Florida.
What is fueling the need for more workers in Florida is a construction boom. New projects like the MiamiCentral Brightline Station, which is worth about $200 million, in addition to smaller projects and ordinary repair and renovation work are tying up all the available skilled workers in the area. The dearth of workers is affecting everyone involved, driving up costs for projects and increasing timelines. Labor costs in Miami rose by nearly three percent from 2017 to 2018.
How to Get into Skilled Trades
Young people today just entering the workforce—and also workers interested in changing their careers—are doing so at just the right time to benefit from the skilled labor gap. Those workers who have the right training are able to pick their jobs, live nearly anywhere and find work, and command great salaries and benefits. It is a great time to get into a skilled trade, in the Miami area and elsewhere.
In Miami in particular experts suggest that there is generally a five to seven year cycle in the construction industry, but that a downturn shouldn't turn people away from this kind of work. People with actual skills, not just general laborers, can expect to enjoy good job security even through the lows in the cycle. And, there are so many options, from electrical work or plumbing to tiling and roofing, carpentry, and high tech jobs like working on HVAC systems and refrigeration.
The requirements for becoming a skilled trade worker depend on the actual trade, the state, and the local municipality. In general, though, skilled laborers need a combination of education and hands-on training in order to become licensed through the state and local area in which they hope to work. Usually there are two ways to get education and training: complete a degree or certificate program at a community college or vocational school followed by an apprenticeship or apply directly to a trade union to get an apprenticeship position that will also include coursework, usually in the evenings.
Completing a degree or similar program is a great option for getting a basic foundational knowledge in construction and a specific trade, like electrical systems. Most skilled trades require an understanding of complex topics that should be taught by experienced instructors. A post-secondary program will also likely include hands-on training that goes beyond classroom and book learning. Many also provide job experience or apprenticeship placement. Once situated as an apprentice the student can expect to work and earn while continuing to learn and train.
For those people who are already in a skilled trade or who are laborers who want to advance their careers, colleges that offer these programs also have continuing education courses. Technology, building, construction, electronics, and other aspects of skilled work are evolving quickly. Workers need to be able to keep up, so these kinds of courses are important. They can be taken in the evening and on weekends so there are no disruptions on the job.
Now is a smart time to get into skilled trades. If you have been thinking about your future, and whether or not this kind of work would be right for you, it's a good time to jump in with both feet. Although there is often a push for young people to go to college and get a four-year degree, the reality is that many students who forgo that education and learn a trade instead end up getting better job security and a great income. Check out the options available to you, especially in South Florida and Miami where construction is booming and young, skilled workers are more in demand than ever before.